Rosa Meininger (1994) is documentair en freelance fotograaf. Haar werk omvat zowel langlopende projecten als portretten en reportages, idealiter met onderwerpen op het snijvak van groen en sociaal.
Over mij:
Het adagium 'Festina Lente', wat zich laat vertalen als haast je langzaam, weeft zich subtiel door mijn leven en werkwijze. Mijn interpretatie van deze lijfspreuk is om je te laten meevoeren door de stroomversnelling die het leven kan zijn, maar gelijktijdig goed de tijd nemen om stil te staan en details in je op te nemen. Alles op je eigen tempo.
Ik sta open voor uiteenlopende situaties en laat me graag inspireren door mensen, de natuur en verhalen - waarbinnen ik de tijd neem om te observeren en te destilleren. Mijn fotografische stijl wordt gekenmerkt door een rustige beeldtaal met zacht kleurgebruik, natuurlijk licht en een narratieve benadering. De lessen die ik heb geleerd door het gebruik van analoge film pas ik toe in mijn digitale werk.
Rosa Meininger (b. 1994) is a documentary and freelance photographer. Her work includes long-term projects as well as portraits and reportage, ideally with subjects on the intersection of green and social.
About me:
The adage "Festina Lente", which translates as hurry slowly, weaves itself subtly through my life and working methods. My interpretation of this motto is to let yourself be carried away by the adventure life can be, but at the same time take plenty of time to stop and take in the details. Everything at your own pace.
I am open to diverse situations and like to be inspired by people, nature and stories - within which I take time to observe and distill. My photographic style is characterized by calm imagery with soft colors, natural light and a narrative approach. I apply the lessons learned from using analog film in my digital work.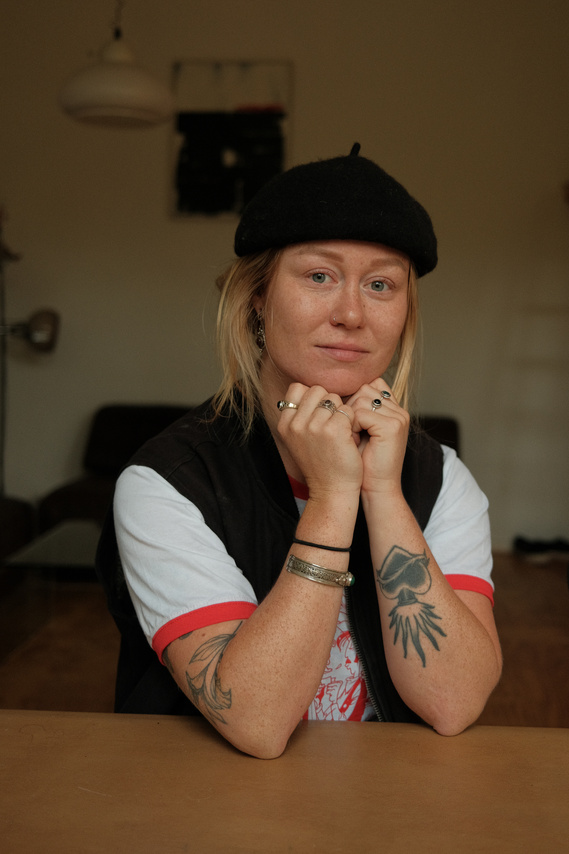 Rosa Meininger
(1994) Based in Breda
info@rosameininger.nl
Autonomous imagemaker and freelance photographer
education
2014 - 2019 Willem de Kooning Academy, Rotterdam (graduated, nominee Drempelprijs 2019)
2011 - 2014 NHTV University of Applied Sciences, Breda (AD Bachelor)
exhibitions
2022 WHIP bus, project with Bo Diversity, traveling exhibition, multiple dutch festivals
2022 Face It, project with Bo Diversity, traveling exhibition
2022 PIER15 zine #3, part of Nachtvlucht by Pieter Laurens Mol, Stedelijk Museum Breda
2021 group exhibition, Studio Zandbak, vaste vertoning, BANK15
2020 group exhibiton, "Zeeuwse Lichting 2019", CBK Middelburg
2019 group exhibition, "De Grote Pier15 Show", Pier15, Breda
2019 graduation show, "FINALS", Willem de Kooning Academie, Rotterdam
2019 Collab with Sjors Bosman, "Flowers", Cultuurnacht 2019, Breda's Museum, Breda
2018 Livestream exhibition, "HACKSPO", World Wide Web
2018-2019 YURR studio, Drab Magazine #4, Vitrines Centraal Station Breda, Breda
2018 group exhibition, Willem de Kooning Academie
2017 group exhibition, "HONK ISM Stedelijk Museum Breda", Stedelijk Museum Breda, Breda
2017 group exhibition, "De Ruimte Voorbij", Dock Gallery, Rotterdam
2017 exhibition, "INSIDE", Suds, Breda
2017 solo exhibition + book release, "INSIDE", Pier 15 Skatepark, Breda
2015 groupshow, "Sign of Times", CBK Wennekerpand, Schiedam
2015 "De Mus", Cultkitchen, Breda
talks
2018 Meet the Makers, "HONK ISM Stedelijk Museum Breda", Stedelijk Museum Breda, Breda
2017 Nadorst Chassé Theater, Breda
publications
2022 Pier15 Zine #3 in collaboration with Stedelijk Museum Breda and Pier15 Skatepark
2022 Living Magazine, a magazine in an afternoon, collaboration with YURR Studio (Yurr Rozenberg), Studio Antiheld (Sjoerd Jansen), Manouk de Weert, Liek van Egmond, Jimmie Rockx (made possible by Gemeente Breda)
2021 Pier15 Zine #2, Plakdrang, Studio Zandbak, curation, edit and production
2020 Pier15 Zine #1, Studio Zandbak, curation, edit and production
2019 PIER 15, '14-'19 in cooperation with Sjors Bosman and Pier15 Skatepark. Photozine, edition of 300. Breda
2019 MAREA II, portfolio part 'International Guest', Published by Zambriskie. photozine, edition of 20. Bologna, Italie
2017 Surf & Turf overview, all (film)photos made during surf&turf festival. Softcover book, edition of 15. Self published. Rotterdam/Breda.

online magazines
2017 Vice Broadly: Op de foto's van Rosa Meininger zie je het zondige nachtleven van Breda
printed magazines
2021 Highlife magazine: cover photo
2018 participant Drab Breda #4, YURR Studio
2017 BK Informatie: cover photo
internships
De Monsterkamer, Amsterdam
Dansgezelschap De Stilte, Breda