Rosa Meininger is a documentary storyteller and freelance photographer based in the Netherlands. She works on long term close to the skin projects as well as social and outdoor focussed reportage.
In her early 20s, Rosa started depicting the zeitgeist from a personal perspective. Her work grows up with her, evolving in style and subject. She combines raw snapshot-like pictures with gentle portraiture and atmospheric images.
Currently she is working on a project about idiosyncratic open-air chef Janne on her quest to freedom, and a long term series where she shows an inside look in community living. Furthermore, she keeps intimate archives of people close to her.
In collaborative projects or commissions like portraiture and reportage, she likes to take time to get to know her subjects in order to visualize their story or portray them in an honest way. Rosa uses photography as a tool to learn, the camera allows her to come closer to people, different visions and worlds.
She loves post punk and grainy zines as much as being in the serene outdoors, wild camping or hiking, and needs lots of alone time to contemplate and endlessly scan negatives.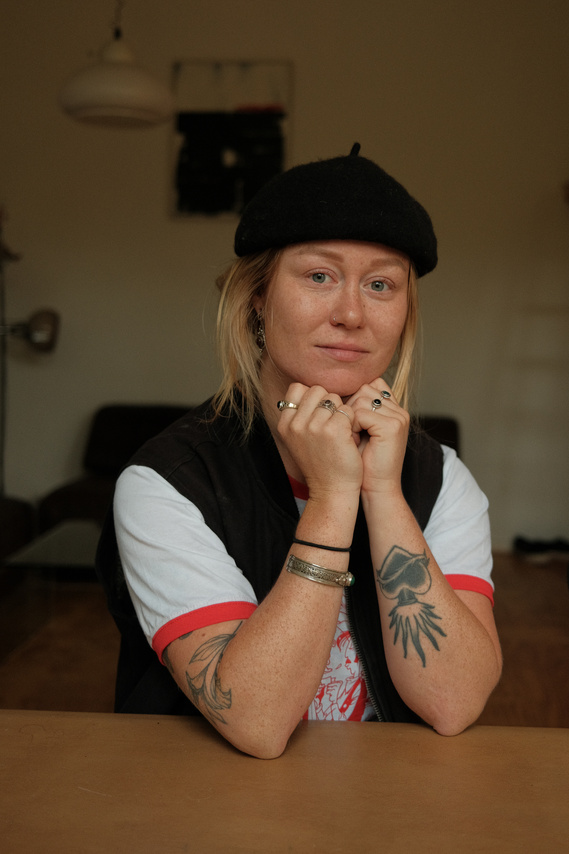 Rosa Meininger
(1994) Based in Breda
info@rosameininger.nl
Autonomous imagemaker and freelance photographer
education
2014 - 2019 Willem de Kooning Academy, Rotterdam (graduated, nominee Drempelprijs 2019)
2011 - 2014 NHTV University of Applied Sciences, Breda (AD Bachelor)
exhibitions
2022 WHIP bus, project with Bo Diversity, traveling exhibition, multiple dutch festivals
2022 Face It, project with Bo Diversity, traveling exhibition
2022 PIER15 zine #3, part of Nachtvlucht by Pieter Laurens Mol, Stedelijk Museum Breda
2021 group exhibition, Studio Zandbak, vaste vertoning, BANK15
2020 group exhibiton, "Zeeuwse Lichting 2019", CBK Middelburg
2019 group exhibition, "De Grote Pier15 Show", Pier15, Breda
2019 graduation show, "FINALS", Willem de Kooning Academie, Rotterdam
2019 Collab with Sjors Bosman, "Flowers", Cultuurnacht 2019, Breda's Museum, Breda
2018 Livestream exhibition, "HACKSPO", World Wide Web
2018-2019 YURR studio, Drab Magazine #4, Vitrines Centraal Station Breda, Breda
2018 group exhibition, Willem de Kooning Academie
2017 group exhibition, "HONK ISM Stedelijk Museum Breda", Stedelijk Museum Breda, Breda
2017 group exhibition, "De Ruimte Voorbij", Dock Gallery, Rotterdam
2017 exhibition, "INSIDE", Suds, Breda
2017 solo exhibition + book release, "INSIDE", Pier 15 Skatepark, Breda
2015 groupshow, "Sign of Times", CBK Wennekerpand, Schiedam
2015 "De Mus", Cultkitchen, Breda
talks
2018 Meet the Makers, "HONK ISM Stedelijk Museum Breda", Stedelijk Museum Breda, Breda
2017 Nadorst Chassé Theater, Breda
publications
2022 Pier15 Zine #3 in collaboration with Stedelijk Museum Breda and Pier15 Skatepark
2022 Living Magazine, a magazine in an afternoon, collaboration with YURR Studio (Yurr Rozenberg), Studio Antiheld (Sjoerd Jansen), Manouk de Weert, Liek van Egmond, Jimmie Rockx (made possible by Gemeente Breda)
2021 Pier15 Zine #2, Plakdrang, Studio Zandbak, curation, edit and production
2020 Pier15 Zine #1, Studio Zandbak, curation, edit and production
2019 PIER 15, '14-'19 in cooperation with Sjors Bosman and Pier15 Skatepark. Photozine, edition of 300. Breda
2019 MAREA II, portfolio part 'International Guest', Published by Zambriskie. photozine, edition of 20. Bologna, Italie
2017 Surf & Turf overview, all (film)photos made during surf&turf festival. Softcover book, edition of 15. Self published. Rotterdam/Breda.

online magazines
2017 Vice Broadly: Op de foto's van Rosa Meininger zie je het zondige nachtleven van Breda
printed magazines
2021 Highlife magazine: cover photo
2018 participant Drab Breda #4, YURR Studio
2017 BK Informatie: cover photo
internships
De Monsterkamer, Amsterdam
Dansgezelschap De Stilte, Breda